5 Fun Gift Ideas that Also Teach Social Skills
By Nadine Briggs
It's holiday gift giving time! Here is our annual blog about the favorite games that we play at Simply Social Kids. These games are great fun but they also work on friendship skills. It's a perfect time to put down the electronics, get together with family and friends, and brush up on some social skills while having a loads of fun!
Family Tips: When learning new games, we prefer to find YouTube videos that explain how to play rather than reading directions. This tip might save families from feeling frustrated as you learn how to play new games. We will also sometimes modify complicated rules to make the game easier to understand.
Games that are intended for older kids can also sometimes be played by younger kids if the content is pre-screened to be sure that it is age appropriate.
Here are 5 of our favorites and why we like them.
SUPERFIGHT: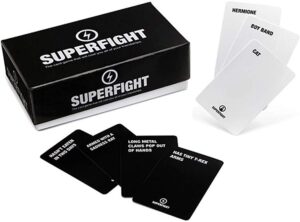 Product Description: SUPERHEROES IN SUPER FIGHTS. Who would win: Abraham Lincoln with laser eyes or a velociraptor armed that can use the force? SUPERFIGHT is a classic party game from Skybound Games where you argue with your friends over RIDICULOUS fights between RIDICULOUS characters armed with RIDICULOUS attributes. It is up to the players to argue and plead their cases about why their fighters would beat the other!
Why we like it: This game uses a lot of imagination and it creates a fun scenario where kids essentially argue their point. It's a great game to teach respectful disagreements and when to relinquish and acknowledge when you have lost a verbal spat. This game is hugely popular in our social skills groups.
Link to Buy: https://amzn.to/34IDQbF
Happy Birthday Game: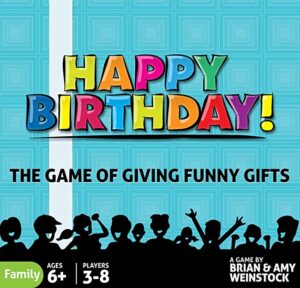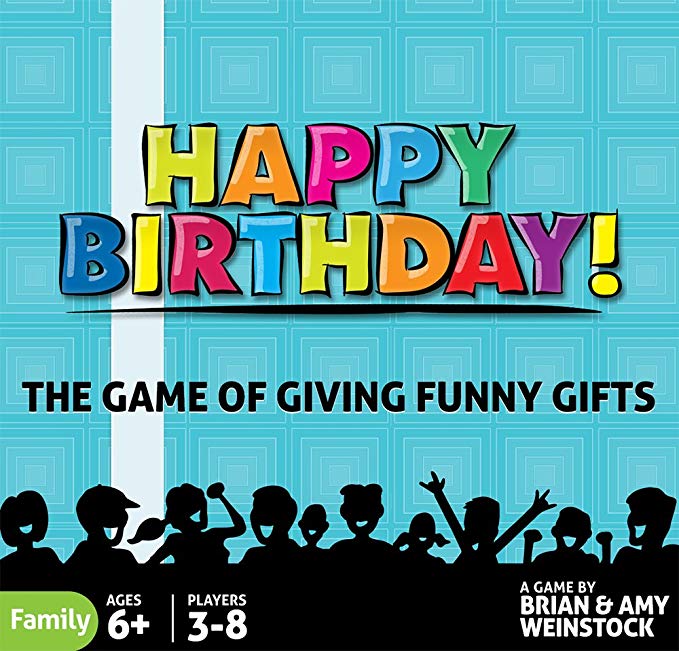 Product Description: The hilarious game of giving funny gifts. – Only 30 seconds to learn! – The hilarious gift cards will get kids laughing instantly. How to Play 1. Everybody gives you gifts from their hand. 2. You pick the best one. 3. That player gets a point!
Why We Like It: Games that encourage players to think about what others like builds the perspective taking skill. Most of the kids were work with have a great deal of difficulty considering another person's view. We encourage players of this game to explain why they chose the gift that they selected so that we all learn more about their likes and dislikes. This game is very popular in our social skills groups.
Link to Buy: https://tinyurl.com/2p85sbw9
Game of Things: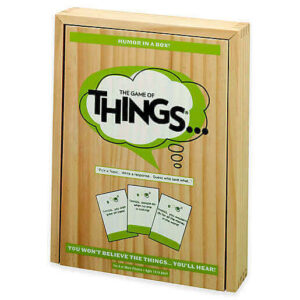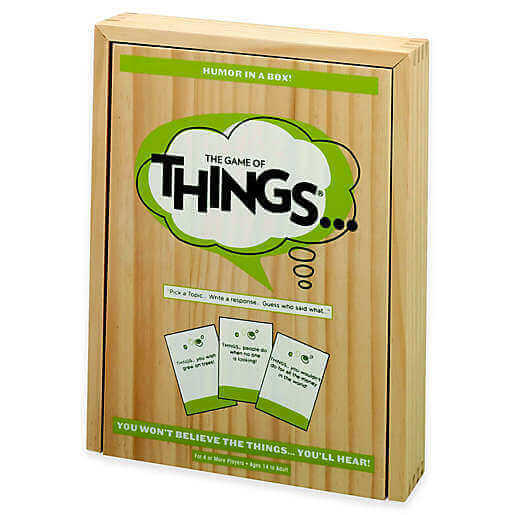 Product Description: In this hilarious party game, read a funny topic such as "THINGS you wish grew on trees. THINGS people do when no one is looking. THINGS you wouldn't do for all the money in the world." The goal of The Game of THINGS. . . is to guess who provided which response. The player who scores the most points wins.
Why We Like It: This game practices perspective taking by challenging the players to figure out who wrote which answers.
Link to Buy: https://tinyurl.com/5n6d26z4
Throw Throw Burrito: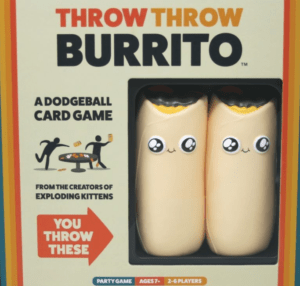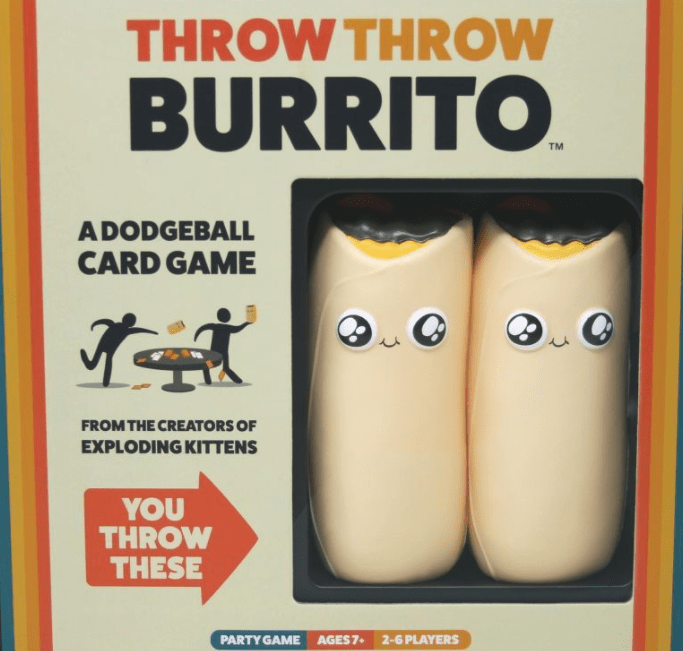 Product Description: Throw throw Burrito is what you get when you cross a card game with dodgeball. Try to collect matching sets of cards faster than your opponents while simultaneously ducking, dodging, and throwing squishy airborne burritos. The cards you collect earn points, but getting hit by flying burritos loses them. So clear some space and put away the antiques, because you've never played a card game quite like this before.
How it works: place a pair of burritos on a table and draw cards. Keep your cards a secret. Rack up points by finding sets of three in the deck. Find matches before anyone else does. If someone plays Burrito cards, a battle ensues. Steal points from your opponents by hitting them with squishy toy burritos. Declare war on your friends. Some battles only involve a handful of players. Others force the entire table to engage in a burrito war. Duel to determine the winner. During a burrito duel, two players must stand back to back, walk three paces, and fire.
Why We Like It: The burritos in this game are super soft so even kids with sensory issues don't mind being hit with one of these burritos. It's a great game to be able to take a soft hit, be okay with it, and accept their "burrito bruise". Kids LOVE this game at Simply Social Kids. It can get a little rowdy, but that creates valuable coaching moments.
Link to Buy: https://tinyurl.com/2p8cj8u5
Forbidden Island: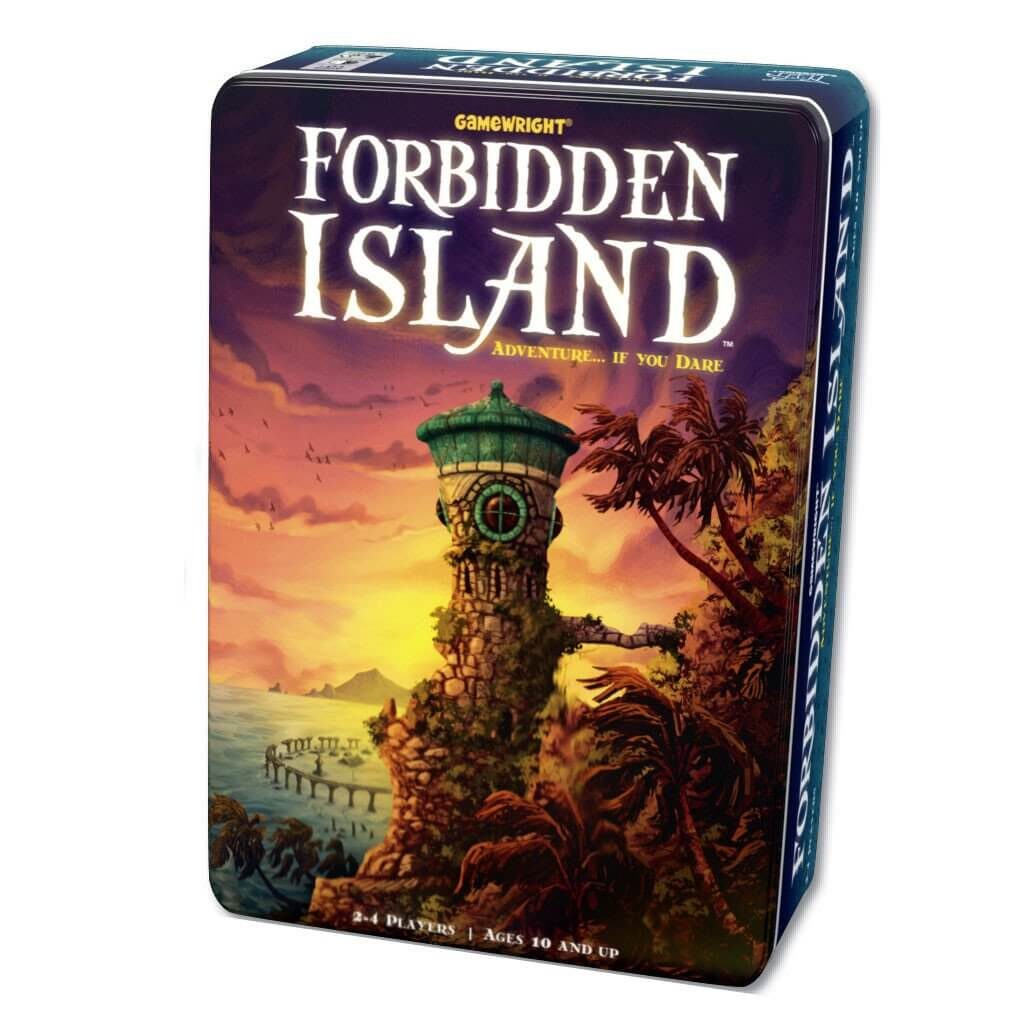 Product Description: Dare to discover Forbidden Island! Join a team of fearless adventurers on a do-or-die mission to capture four sacred treasures from the ruins of this perilous paradise. Your team will have to work together and make some pulse-pounding maneuvers, as the island will sink beneath every step! Race to collect the treasures and make a triumphant escape before you are swallowed into the watery abyss! The latest creation by cooperative game master, Matt Leacock who created the best seller Pandemic.
Why We Like It: The goal for this game is for everyone to work together to "survive". It takes cooperation to beat the game which is a great way to practice this important social skill. It can take a bit to learn but it is worth the effort.
Link to Buy: https://tinyurl.com/2p8d5t4u
These games are some of our favorites. If you have a favorite game that also teaches social skills, we'd love to hear about it!
If your child/teen/young adult needs coaching to help them make friends, contact us to schedule a trial https://calendly.com/simplysocialkids/30min or find out more about our weekly programs or Just for Fun clubs or learn more by contacting us at https://simplysocialkids.com/.